Archive for December, 2009
Monday, December 28th, 2009
to Ayson Todd Nutbrown:
He was born December 21st, 2009 at 9:19pm. Six years ago on  December 21st….. my mother passed away. What a beautiful gift she sent us to change that sad day into a joyous one. I'll be forever grateful for her sign from Heaven that she truly is, always watching.
Ayson is a wonderful baby. He loves to eat and only cries when his diaper is off and he's cold. Fancy that, A December baby, born to 2 beach bums, who hates the cold. Ha!
Thank you all for your love, blessings, and flood of beautiful messages to welcome our boy.
As Sandy mentioned on the KIX Chicks Facebook page, his name means, "his mother's love, his father's pride." Little Ayson is certainly living up to his name.
Sunday, December 6th, 2009
…..we have some serious Christmas Illuminati. Not weird killer 'Illuminati' like from that Dan Brown novel turned Tom Hanks movie….'Illuminati' like people who take their Christmas lights religiously. And what with my pregnant bitchiness hugeness glow and all, it's a Christmas freakin' miracle we even got the tree up and cookies baked this year. So when Todd asked about what we should do about outdoor lights…..I suggested something like this: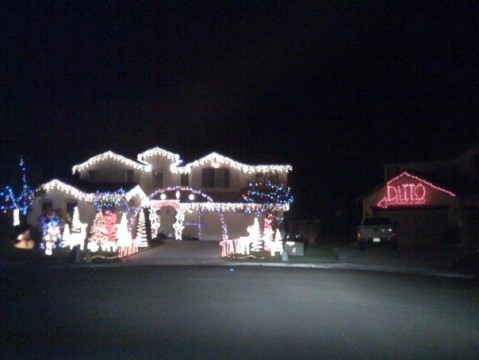 It's the thought that counts.
Thursday, December 3rd, 2009
This is Severn Suzuki (daughter of Canadian environmentalist David Suzuki) at a UN Meeting almost 20 years ago…….