Tuesday December 21 2010 – 1:04am Eastern – Toronto, ON
The Christmas CD that is sweeping the nation - "From Brooklyn To Toronto:  Jack Armstrong and Eric Smith Sing the Holiday Classics" – can now be downloaded online!
From "Jingle Bells" to "Holly Jolly Christmas" and everything in between … you can hear 14 Xmas tracks (and 1 special bonus track as well) on your computer, smartphone, MP3 player, or iPod within seconds by clicking the link below and ordering your digital copy immediately!
Once you place your order of $6 … you will be sent a link to a file containing ALL 15 TRACKS + the JPEG file of the ALBUM COVER.
Payment can be made via PayPal or credit card.
It's as simple as that!
——————————
NOTE:  For some reason, the website that is hosting the online sale of "From Brooklyn to Toronto" DOES NOT WORK ON INTERNET EXPLORER.  However, there are no issues with the link on browsers like Mozilla Firefox, Google Chrome, and most smartphone browsers (including the Android).  It is recommended that you download the latest version of Firefox or Chrome before placing your order of "From Brooklyn to Toronto".
——————————
Ready to order now?  Click on the link below:
http://www.fastwagon.com/add/rjuoke/2665
Remember, all of the money raised is going to the TEAM UP FOUNDATION (http://www.mlseteamupfoundation.org/) … so please be generous and order your digital copy of "From Brooklyn to Toronto" for only $6.
Bing Crosby and Frank Sinatra may be rolling in their graves when these songs are played, but Jack and I have been getting fantastic reviews in-person, via email, and on Twitter (even if many of the comments are clearly delivered tongue-in-cheek)!
Again, that link to order your digital copy of "From Brooklyn to Toronto" (on Firefox or Chrome) is:
http://www.fastwagon.com/add/rjuoke/2665
All the best for the holiday season.  Merry Christmas and Happy Holidays to all of you!
E. Smith
——————————
The online/digital version of "From Brooklyn to Toronto" is $1 more than the original hard copy … simply to cover the 'fees' that are being charged by the host website and the folks at PayPal.  NO PROFIT IS BEING MADE ON THIS CD.  You have my word that neither Jack nor I are seeing a penny from the sale of our music!  If there are ANY nickels, dimes, or dollars floating around when all is said and done … ALL of that money will be forwarded to the Team Up Foundation!
Hard copies of the CD will still be available for purchase at the ACC on Wednesday night (when the Raptors host the Detroit Pistons).  Find ME during the pre-game, halftime, or post-game show (at the Real Sports Apparel Store) to buy your copy for $5.
——————————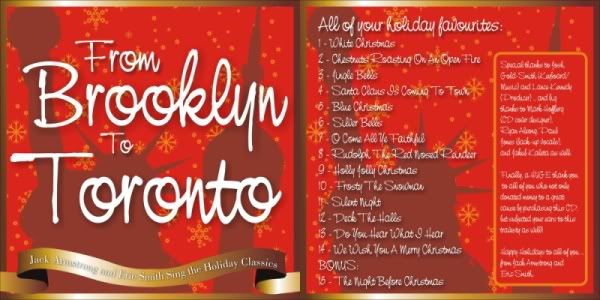 ——————————
If you don't have Mozilla Firefox or Google Chrome, you can download the latest versions right here:
http://www.mozilla.com/en-US/firefox/
http://www.google.com/chrome
——————————