JOHN LENNON 9 October 1940 to 8 December 1980
"I'm not afraid of death because I don't believe in it.
It's just getting out of one car, and into another" (John Lennon)
On Wednesday December 8th, the CHEZ Nation remembered John Ono Lennon who was killed 30 years ago.
Thank you to everyone who joined us on Parliament Hill for the candlelight vigil! See it here:
Yoko Ono recently said that she chooses not to observe December the 8th in any big way. Instead, she lights a single candle in John's memory and celebrates his life on what would be his birthday. This year,  she released a statement on the website Imaginepeace.com:
"This year would have been the 70th birthday year for John if only he was here," she wrote. "But people are not questioning if he is here or not. They just love him and are keeping him alive with their love. I've received notes from all corners of the world to let me know that they were celebrating this year to thank John for having given us so much in his forty short years on earth.
"The most important gift we received from him was not words, but deeds. He believed in Truth, and had dared to speak up. We all knew that he upset certain powerful people with it. But that was John. He couldn't have been in any other way. If he were here now, I think he would have shouted so we can all hear it. That truth was important. Because without knowing all the truth of what we did, we could not achieve world peace.
"On this day, the day he was assassinated for being a truth seeker and a communicator, what I remember is the night we both cracked up drinking tea.
"They say teenagers laugh with a drop of a hat. But nowadays I see many teenagers angry and sad at each other. John and I were hardly teenagers. But my memory of us is that we were a couple who laughed."
Yoko Ono has chose her 10 all-time favorite John Lennon songs for Rolling Stone magazine's playlist feature. Her first-place selection is 1971's "Oh My Love," about which she says: "It's not so much about sexual interest or 'I miss you' – it's more to do with true love."
Yoko's Top 10 Lennon songs:
1. "Oh My Love"
2. "Gimme Some Truth"
3. "Give Peace a Chance"
4. "God"
5. "Grow Old with Me""
6. "Imagine"
7. "Scared"
8. "Jealous Guy"
9. "I Don't Wanna be a Soldier"
10. "Mother"
"As usual, there is a great woman behind every idiot." (John Lennon)
  "You can't cheat kids. If you cheat them when they're children they'll make you pay when they're sixteen or seventeen by revolting against you or hating you or all those so-called teenage problems. I think that's finally when they're old enough to stand up to you and say, 'What a hypocrite you've been all this time. You've never given me what I really wanted, which is you." -John Lennon
" In 1980 I was doing the morning show on CHEZ. I'd gone to bed and was woken up by my wife who told me the news. I spent the rest of the night listening to WABC in New York, trying to comprehend what had just happened. I knew that the next morning's show would probably be the most important we'd ever done, since listeners would be waking up and hearing the news for the first time. The day that followed was kind of surreal, with CHEZ's music guru Brian Murphy hosting a vigil on Parliament Hill that night." – Steve Colwill Music Director and on-air, CHEZ106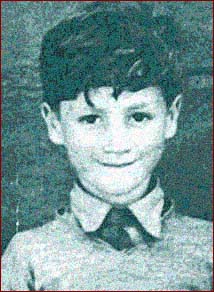 "When I was 5 years old, my mother always told me that happiness was the key to life. When I went to school, they asked me what I wanted to be when I grew up. I wrote down 'happy'. They told me I didn't understand the assignment, and I told them they didn't understand life." -John Lennon
Julian Lennon has compiled a book that sheds new light on his famous father. Beatles Memorabilia, The Julian Lennon Collection features some of Julian's most personal belongings including a letter written to his Mother Cynthia in 1965 by John, when they were still married. The letter talks about John's feelings for his son:
"I really miss him as a person now. He's not so much 'The Baby' or my baby any more he's a real living part of me now. I can't wait to see him, I miss him more than ever – I think it has been a slow process feeling like a real father! I spend hours in dressing rooms thinking about the times I've wasted not being with him – and playing with him. I keep thinking of those stupid [expletive] times when I keep reading bloody newspapers and other [expletive] whilst he's in the room with me and I've decided it's ALL wrong." -John Lennon
" When I heard the news my heart sank in to a place it had never been before. I was 23 and grew up with the Beatles shadowing every stage of my life. John Lennon took me through my grade school years, to first loves in high school and the beginning of adult hood. The songs were there all the way through , I had every album the Beatles ever made. I had like minded friends so for 3 days after the news of Lennon's murder we gathered around my record player and listened to all of the albums from beginning to end. Shared stories of John Lennon and the Beatles and wondered who would do such a thing. For the first time in my life I felt a death." – Doc:  Mornings, CHEZ106
 "We were all on this ship in the sixties, our generation, a ship going to discover the New World. And the Beatles were in the crow's nest of that ship." – John Lennon
 "How can I forget the night John Lennon was killed. I was on the air  and through tears delivered the painful news.
I went home and stayed up all night. I think I was in a shock.  To this day, when I think about that night, I get upset."- Randall Moore, CHEZ106 News
THE IMAGINE PEACE TOWER
The Imagine Peace Tower is on Videy Island, in Reykjavik, Iceland . It's a work of art conceived of by Yoko Ono, and  dedicated to John by her at its unveiling October 9th 2007.
The Tower is lit from October 9th (John's birthday) until December 8th (the anniversary of his death). It will also shine during the first week of Winter (December 21-28) , on New Year's Eve and during the first week of spring (March 21-28).
Click here to reach the IMAGINE PEACE TOWER Webcam.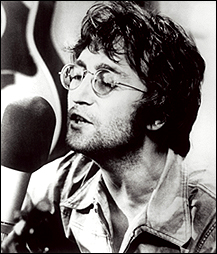 "Christianity will go. It will vanish and shrink. I needn't argue with that; I'm right and I will be proved right. We're more popular than Jesus now; I don't know which will go first – rock and roll or Christianity." -John Lennon

" It happened during my first year at CHEZ, when I was the overnight announcer. I'd come in to work a little early as there wasn't much to do later in the evening when friends were all heading for bed. I would prepare for the shift in our Newsroom using the wire to get ideas for things to talk about. It was there that I saw the first alert about a shooting in New York City. A few minutes after that, the possible victim was named and it made my blood run cold. There was no Internet to get instant updates and nothing on TV yet. And then, the news-wire started tapping out a few more words. I still have the piece of paper from that day that read:
***JOHN LENNON IS DEAD***
Through the night I answered one call after another, confirming the story and listening to all the outpourings of disbelief, grief and anger. When the sun came up, most of the world had heard the news and I headed home to sleep. It was only when I got back to my room that I couldn't stop crying." -Jacki, CHEZ 106 on-air
I don't believe in killing whatever the reason! – John Lennon