KATY PERRY TURNS HEADS WITH NEW LOOK
 Katy Perry recently wrapped her eight month California Dreams tour and it appears the singer was ready for a new look. She unveiled her new do on Saturday night, December 3rd, while attending The Change Begins Within Benefit in Los Angeles with her husband Russell Brand. Perry has toned down her bubblegum pink hair to a much lighter baby pink that she had styled into a short haircut.
So far this year, the natural brunette has sported a fiery red look after a botched dye job. She then went blonde before going to the bubblegum pink look in August.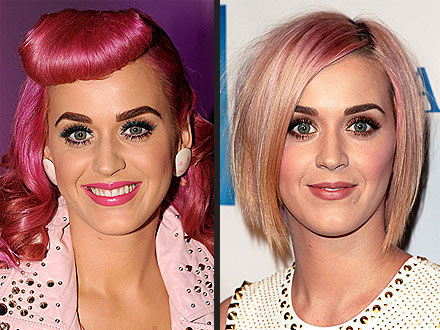 LADY GAA BREAKS DOWN HER DIRECTORIAL DEBUT
Superstar Lady Gaga made her directorial debut recently with her new 14-minute clip, Marry The Night. According to the singer, the clip captures her emotions and what she went through the night she was dropped from her first major label deal. Gaga told VEVO News, "Well actually the video is autobiographical. So it's a completely true story that has been filtered through the lens of my artistry."
Gaga also explained the ballerina theme in the video. She said, "One of my sort of fears and obstacles as an entertainer was that I was never a ballerina so it was, about in this video, creating that perfect modern image of something I'm not really and destroying her, as I felt destroyed."
To see the full interview click here
MADONNA AND LOLA'S MODEL SEARCH WINDING DOWN
The search for the new face of Material Girl for next spring is coming down to the wire as the 36 semi-finalist will be cut down to ten after today, December 5th. Madonna and Lola launched the Material Girl "Lucky Star" Model Search last month. The winner will get a trip to New York City for a photo shoot, a billboard in Times Square, their ad in national magazines and $5000 cash.
To vote fans should go to: http://tinyurl.com/d56pg69